G String With Silver Vaginal Chain
Egyptian Scarab Figurine With Silver Tassels
Stunning scarabs have been found bearing the names of pharaohs of the Old Kingdom such as Khufu. Accordingly Body Body's Khufu is another wonderful piece added to our Ancient Egypt Collection. Its striking scarab pubic jewel in sterling silver gold plate and semi-precious hematite stone would be a perfect acquisition for your erotic jewelry treasure. Your vagina and labia are framed with a double gold chain. Two silver and black tassels dangle cunningly from the scarab to playfully tease your clitoris as you move.This gorgeous work of art is held in place with a soft black elastic g string attached to a gold Egyptian hieroglyph charm cunningly placed above you anal opening. Khufu sets your pubes on fire with a shower of silver. This is clit jewelry at its finest. You will not find comparable vagina jewelry for sale anywhere.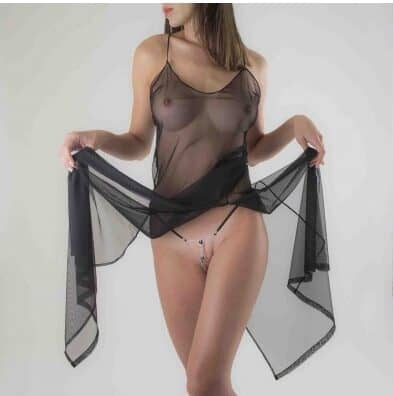 10 microns of sterling silver plate on metal. Soft stretch cotton elastic for perfect positioning and adjustable fit. Black hematite colored stone. Available in sizes S, M, L, XL, & XXL. Painless. Hypoallergenic. Artist designed and hand crafted in Paris. Free shipping. Think erotic.
This Women's butterfly decorated G-String design is simply exquisite. The hand cast and heavy Gold plated (10 Microns) delicate butterfly is perfectly placed to provide a wonderful look under your favorite outfit, or without anything at all. The gold chains gently lay to the side of the labia, and connect to a comfortable thong type elastic waist band adorned with butterfly figurine accents, suitable for all day wear. Don't forget the matching nipple, necklace, earring, and waist chain pieces!
Available in sizes S, M, L, XL, & XXL.