OBSESSIVE LINGERIE
Obsessive Lingerie. Sexy and Exotic. Beautiful and Exciting.
Obsessive Suspender Set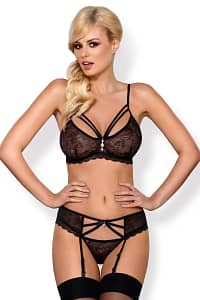 Obsessive Lingerie Suspender Set. 3-Piece Set.
Classic, stylish AND excitingly playful! Bra, suspender belt and G-string in a seductive 3-piece set made out of beautiful lace with strap and rhinestone details at the front. Bra and suspender straps are adjustable. Black.
Containing a bra, suspender belt and string
Strap and rhinestone details at the front
Bra and suspender straps are adjustable
Without stockings
818-SEG
Obsessive Beautiful Bra Set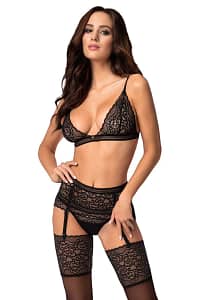 Beautiful lingerie made out of delicate lace! A bra, suspender belt and string in a seductive set. The bra has a sparkly stone that is an additional eye-catcher and the suspender belt has 6 suspender straps. The bra and suspender straps are adjustable. A hook fastener at the back. Without stockings.
3-piece set: bra, suspender belt and string
Made out of delicate lace
With 6 suspender straps
Obsessive Elizenes Corset and Thong
Do you always feel hungry for new Obsessive products? Today we will fulfill one of your lace fantasies. We know that you love the temptress hidden inside, and by putting Elizenes on, you'll not only turn up the atmosphere in your bedroom, but also surprise him with a bit of spiciness. Trust us, you two are facing a romantic stay in the land of sensual embraces, strong sensations, and passionate adoration.
Material and Design:
Lingerie Corset
90% polyamide
10% elastane
Black
Obsessive Lingerie Alessya Basque Set
An extremely seductive lace style! The basque and string set Alessya from Obsessive is made out of eye-catching, delicate lace and delicate powernet. It is soft and stretchy for a comfortable fit. It is in a fancy design with stretchy, decorative straps between the underwired cups and in the cleavage area. The straps lead to a clip fastener at the back of the neck. The lacing at the back is a real eye-catcher. The straps and suspender straps can be adjusted, the suspender straps are also removable. The beautiful and classic lace string adds the final touch to this seductive look.
With underwired cups
Adjustable lacing at the back
Adjustable bra and suspender straps
The suspender straps can be removed
Soft and stretchy for a comfortable fit
Obsessive Lingerie Isabellia Garterbelt
Complete your collection of sexy black lingerie with this sensual, feminine wonder. The lace garter belt will emphasize your legs and derriere, add style and seduce you with the power of sex appeal. Are you ready for nights full of hot emotions?
Cottelli Lingerie Rhinestone Pearl Crotchless String
Seductive detail! The crotchless string from Cottelli LINGERIE is made out of delicate tulle net and it has a beautiful flower and delicate embroidery at the front of the seductively open crotch area. There are 2 small, swaying chains with pearls decorating and stimulating the crotch areas – they are also removable. The stretchy waistband has rhinestone chains and rings at the front (at either side). There is a stretchy powernet insert at the back for a perfect fit.
String made out of tulle net with an elaborate flower
Stretchy waistband with rhinestone chains and rings
Open at the front with chains and pearls (removable)
With a powernet insert at the back for a perfect fit