Leather Cupless Boned Bustier Lace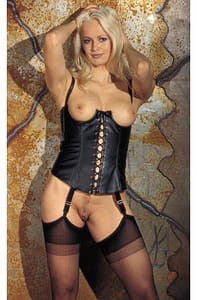 € 214,66
Color: as shown
Size: S,M,L,XL
Description
This open cup (with underwire) boned (3 per side) bustier with lace-up front, zip at the back, and adjustable elastic garters offers a perfect fit. Made from top quality real leather. Super soft hand selected Dutch made hides for a superior garment. All edges are folded and stitched with the highest quality European craftsmanship possible. Detailed stitching decorates and highlights the shapely outline for a high fashion look. This is not a faux leather toy. This possesses quality to last for years and comfort to be worn under anything or without anything. Dare to try it for day at work, a night on the town, or an hour (or two!) in the playroom!
Nile Sunset – Gold Breast and Nipple Necklace with Isis Charm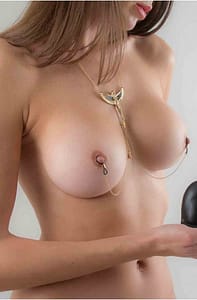 € 111,60
Description
"Spectacular" is the only word to describe this enchanted 24 carat gold plated necklace with nipple jewelry.
A prominent gold figurine dangles from the end seductively nestling between the lady's breasts.
Gold droplets flow from her feet with cunning gold chain nipple attachments.
The nipple ornament is non-piercing. The entire ensemble is perfect for daringly low cut dresses and topless lingerie.
Or wear it completely nude. Your look will be perfect.
1 micron of 16 carat gold plate finished with 9 microns of 24 carat gold plate.
The charms are composed of black enamel and topaz colored stones.
Fully adjustable chain length so the necklace lies perfectly on your breast.
Fit your nipple by sliding the gold band on the noose. Painless. Hypoallergenic.
Artist designed and hand crafted in Paris. Free shipping. Think erotic.